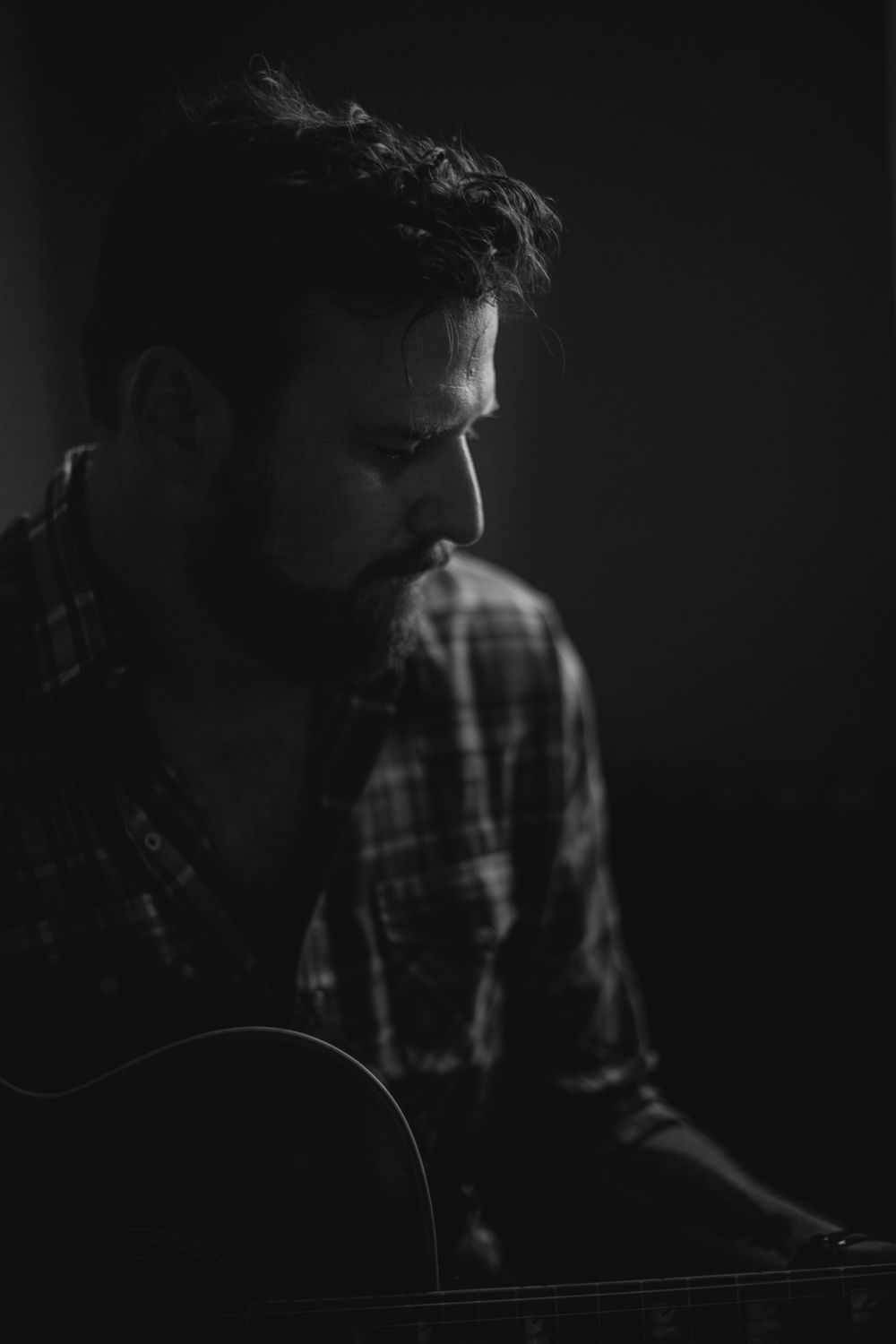 DREW KENNEDY
"To do this job, you have to be an extraordinarily self-centered person," Drew Kennedy says. "That's just what it requires. I don't want to be self-centered, but I was made to do this. A lot of artists say art comes from conflict––they talk about relationships ending or trying to overcome serious habits. Well, my conflict is this: how do I be so self-centered while being as selfless as I can?" 
Kennedy is asking himself these questions as he drives through some snaking Colorado mountain roads, on his way to pick up his wife and two young sons from the airport after about a week apart. He's missed them terribly, but it's been such a good run: listening rooms scattered throughout Colorado, New Mexico, and West Texas, all packed with devotees anxious to hear just him and his Gibson Hummingbird tell stories. He's doing what he loves while who he loves most is 1,000 miles away. And it's that tension––the struggle between being the kind of man he wants to be and being the kind of artist he has to be––that keeps him up at night. 
It's also what enables Kennedy to write songs that comfort even as they break your heart. 
"When you're alone, the thing that keeps you company is your memories––your thoughts," Kennedy says. "Sometimes your mind wanders into something that happened 20 years ago that was just a lily pad you hopped onto and off of on your way to wherever you were going. But with the benefit of time, you can look back and say, 'That was sweet, and I'm going to hang on to the sweetness of that.' That's what makes you feel at home. Grabbing the goodness you've experienced when you don't have a lot of human interaction or you don't get to kiss your kids." 
On his highly anticipated eighth album At Home in the Big Lonesome, Kennedy grapples with how and when we can grab that goodness. Produced by Dave Brainard and fueled by Kennedy's character-driven songwriting and distinct vocals, the album is a confident foray into Kennedy's most complex musical territory to date: lush piano pop, layers of strings, and dramatic percussion that nods more to the Wrecking Crew than any Texas playboys. "Dave said, 'What do you want this to be?'" Kennedy says. "I said, 'I want to make a sophisticated record for adults.' We ended up making a record that's so close to my personal listening taste––something I've never done before." 
At Home in the Big Lonesome accomplishes that and more. Respecting listeners as it challenges them to think––and all without ever sacrificing a hook––it's a big artistic win, even for a singer-songwriter like Kennedy with a history of besting the status quo. But for a while, he wasn't sure that it was going to happen. The first day of recording at Sony Tree in Nashville, his manager Scott Gunter interrupted the session: Kennedy had missed two calls and a text from his wife Holly. At just seven months pregnant, she'd gone into labor with their second son. "Scott helped me find a flight so I could go throw up in the bathroom," Kennedy says. "I was so scared. It was a terrifying few hours until I could get home and look at her and just be there." 
As the Kennedys' son Oliver was being born and fighting for his life in Texas, musicians in Nashville continued to work on At Home in the Big Lonesome. Kennedy pushed through inner conflict like he'd never experienced: joy over Oliver's progress bumped up against fears about feeling disconnected from his own album, then shame over worrying about the record at all instead of focusing solely on his family. "It's a really confusing tightrope I ended up walking," Kennedy says. "I did not enjoy the guilt and anxiety that was created, when at the same time, I was watching my son flourish." 
Between three and four months later, Oliver was thriving, and Kennedy was ready to return to the studio. "I was really nervous I'd feel disjointed from all that work that'd been done without me there, even though there was still so much more to do," Kennedy says. "It felt good to get back in and realize, No. These are your songs. Just because you had an emergency and those guys soldiered on without you doesn't mean you're not in this. It is you." He pauses, then smiles. "In an odd way, it almost made the album even more personal because it was Dave's and all the musicians' way of being able to give all they had to support me, my family, and my art." 
Kennedy needn't have ever worried: At Home in the Big Lonesome is patently, beautifully, unmistakably his. Old men, devoted lovers, nostalgic loners: the characters Kennedy has become known for creating are all here. "I try to make little movies," Kennedy says. "I don't try to create little episodes of the same TV shows with the same recurring characters. There's a place for that, but I like to paint vignettes that stand on their own." 
Album opener "When I'll Miss You Most" sets the pace: a piano-cushioned farewell that lists the times, ways, and reasons goodbye will never really happen, the song is a moving ode to the people who won't leave us. Next track "Sing This Town to Sleep" offers an intimate moment that "When I'll Miss You Most" would list. 
Kennedy has long-since mastered the art of literary lines that evoke sharp images and strong emotions. As he sings, "The sky's as wide as a smile on a waitress / at a late night, roadside cafe outside of Pecos" to kick off "Open Road," West Texas skylines and the people who dot them are inimitably captured. All brimming toe-tapping keys and crisp cymbal crashes, "24 Hours in New York City" traces the exhilaration and possibility of young love, while "House" describes a home's dismantling to heartbreaking perfection. Moody "Cream and Sugar" and driving "Jackson" are both straight-ahead pop smashes, and Kennedy's vocals have never sounded better. Walt Wilkins' gem "Walnut Street" makes for an ideal addition and marks Kennedy's first-ever inclusion of a cover on one of his albums. 
"Miles to Go" offers wisdom for Kennedy's sons in nuggets we should all take to heart. When asked about the song, he talks about the need to remember that while a day can feel momentous, each day is just a tiny part of a much bigger story. Kennedy pauses, then says warmly, "It's also partly me saying that I know I'm gone a lot right now. I wish I wasn't. But just so you know, I'm carrying your hopes and dreams with me, even as I go out and chase my own."