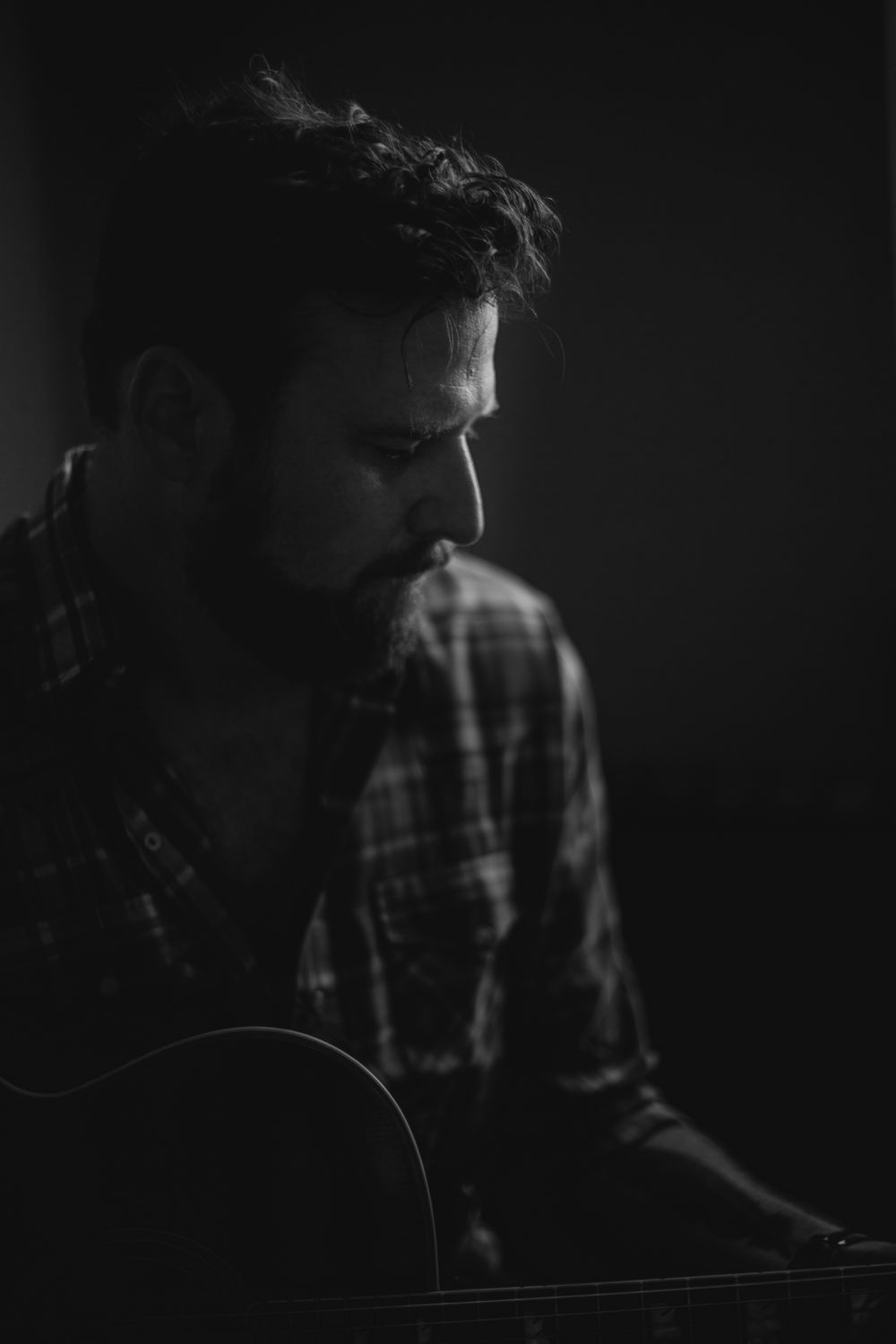 DREW KENNEDY
"We had one rule when we started recording this record: If we don't have it, we can't use it." It's a simple concept – the premise that makes up Drew Kennedy's ninth studio album, Marathon – but the result is a vivid and immersive ode to a corner of the world that the singer-songwriter has fallen in love with over the years. Kennedy and his collaborator, Davis Naish, packed up a select set of instruments and headed to a small adobe house in the tiny Far West Texas town after which the album is named – as he mentions in the opening track, a town born of Buffalo Soldiers and Seminole Scouts and the third transcontinental railroad, with seven high school seniors; the entire town has less than 400 residents – where they spent a week recording his latest 11-song collection. 

One of the first facts worth mentioning about Marathon is this: these aren't demos, and they don't sound like it. Marathon is a full journey of a record steeped in creativity. "I wanted to make my 'Guy Clark' record, and I wanted it to rely very heavily on my skills and my limitations," Kennedy says. 

"I truly loved the way we made this record," he continues. "We weren't in a studio, so we didn't have access to a lot of the things you'd usually have access to while making a record. If we needed something to do the work that a snare drum would do, we banged around on stuff until we found a sound we liked. The 'snare drum' on 'Watch It Shine' is me slamming a door. We used my guitar case, a chairback, a shaker we made out of a Pringles can, some jasmine rice, and gaff tape for percussion. I did a lot of whistling on this record, and we layered plenty of vocals and different guitar voicings within the tracks to help build the sonic landscape." 

Track one, "Marathon," is more like track zero – setting the scene for the movie that follows: down highway 90 to Marathon, Texas; then a brief history of the town, and some time spent wondering what the future holds for the lonesome desert enclave. Next, a story of someone picking up the pieces in the wake of a failed relationship – of the wanderlust that helps him recover – and then the story of his meeting someone new. The last song, "So Far To Go," serves as the closing credits to this windswept tale. Kennedy points out that it falls outside of the album's storyline, but that it felt incredibly important for him to commit to tape. 

As long as stars are in the sky, and sand is on the beaches 
Long as words are gonna rhyme, and teachers want to teach us 
Long as baseballs have seams, and sleeping has dreams you'll be fine 
"This one is personal. Hear that at the end? That's me breaking down into tears," he notes. "I'm not sure exactly why that happened just yet, but it did, and afterwards I felt so much... lighter. That's the only way I can describe it. This is what I want my kids to remember. This is what I want people that hear this record to think about. What matters? What is real? What is it all about? As far as I can tell, it's this. This is the closing credit song, and it might be my favorite song that I've ever written." 
That single verse is also a solid glimpse into Kennedy's life, small pieces of his own story sewn into the lines. A south central Pennsylvania native, he didn't start playing music until college, where he played baseball. He and his wife, an art teacher, moved to the Texas Hill Country a few decades ago, where they are now raising their two boys.
 
By all accounts, Kennedy is a man, and a songwriter, full of heart – which is probably one of the reasons he's forged such a longstanding friendship with Walt Wilkins, a storied songwriter in the state and beyond, known as much for his poetic turns of phrase as the wisdom in them just the same. The only song on the record that Kennedy didn't have a hand in writing is "Watch It Shine," a track Wilkins wrote with Owen Temple. "The first time I heard Walt play this song, I was standing in the balcony at Dosey Doe in The Woodlands, Texas, during the start of one of our Traveling Red River Songwriters tours," he says. The collective, now celebrating a decade as founding members of a festival in Red River, New Mexico, is made up of Kennedy, Wilkins, Kelley Mickwee, Josh Grider, and Susan Gibson. The group participates in a yearly tour across Texas, and each draws a number out of a hat to select the order of the show, and get up one by one until they're all performing together on stage. 

"Walt drew number one, and he played this song to kick off the show. When he got to 'they say there's iron in these mountains, and in bone and skin and mud, they say that iron only comes from stars, so stars are in my blood' my knees nearly gave out. On Marathon, this song represents the journey – to go out there in the hopes that some semblance of recognizable self can be reclaimed in the great unknown." 

Along with the writing he does with his fellow Red River Songwriters – Kennedy also has a side-project with Josh Grider, with whom he wrote "Boots On My Feet" and "West Texas Cloud Appreciation Society"; set midway through Marathon's journey, the latter is a self-explanatory love letter to the sky's scenery out in the middle of nowhere. Kennedy has spent most of the last ten years immersed in collaboration, working tirelessly to make a name for himself among the publishing houses of Nashville's Music Row and writing with some of country music's most revered songwriters. "Peace & Quiet" was written with the Nitty Gritty Dirt Band's Jeff Hanna and Nashville Songwriters Hall of Fame member Matraca Berg. 
"The first CD I ever bought with my own money in 1993 was Nitty Gritty Dirt Band's Will The Circle Be Unbroken — and I'm not sure I still fully understand how that kind of full-circle journey happened," he says. "I might not understand it, but I do have a handful of songs to prove it, and this is my favorite of the ones I've written with those two magical people." 

"The Hat" holds one of Marathon's few supporting cast members: a tale woven around the brim of an Open Road Stetson, a gift from an acquaintance in hopes it might inspire new adventures. "Hi-Ho Silver" was influenced by the sheer beauty of an awe-inducing landscape and the kind of questions it provokes.
"Hope" offers the turning point in the album's journey; any good heartbreak story has to find redemption, after all. "Lucky" follows close behind, with a chance at new love. 
"Sunset Special" was inspired by an Amtrak line that runs through Marathon, originating in New Orleans and running all the way to Los Angeles – it seems fitting that a train would run through a place that sometimes feels suspended in time. 

"Davis and I wrote this song after pulling into Marathon for the first time together as the Amtrak train was coming by. I told him the name of that particular train and he said, 'Sunset Special is a great title,' and so we wrote the song. Then we did what all good songwriters do to celebrate the arrival of a new song— we went to grab a drink to commemorate it. A few beers in I said, 'Wait... It's called The Sunset Limited.' but it was too late– the song wasn't interested in letting us change it for accuracy. Trust me, we tried." 

The premise of "Boots on Our Feet" is simple: "What do we get out of the journey? The journey itself, of course: all of the things we see, and taste, and feel, and smell," Kennedy says. "The love we find and the things we experience. The hopes we carry and the memories we make. And, for me, anyway, the songs that are out there waiting for some songwriter to show up and take them along for the rest of the ride." 
Between everywhere I've ever been 
And everywhere I'll ever be 
What you get is what you see 
Living 'tween the hat on my head 
And the boots on my feet